Control- and measurement systems
SP 591 LX G4 can be used with virtually all control systems on the market. Through a simple adaptation the SP 591 LX G4 can be used together with the following systems:
Dasa280
Dasa380
Dasa4
Dasa4 Compact
Dasa Forester
John Deere Timbermatic
Motomit IT
Motomit PC
Komatsu MAXI
Ponsse Opti
Technion
Techno Matic
TOC-MD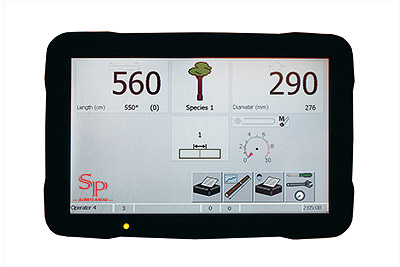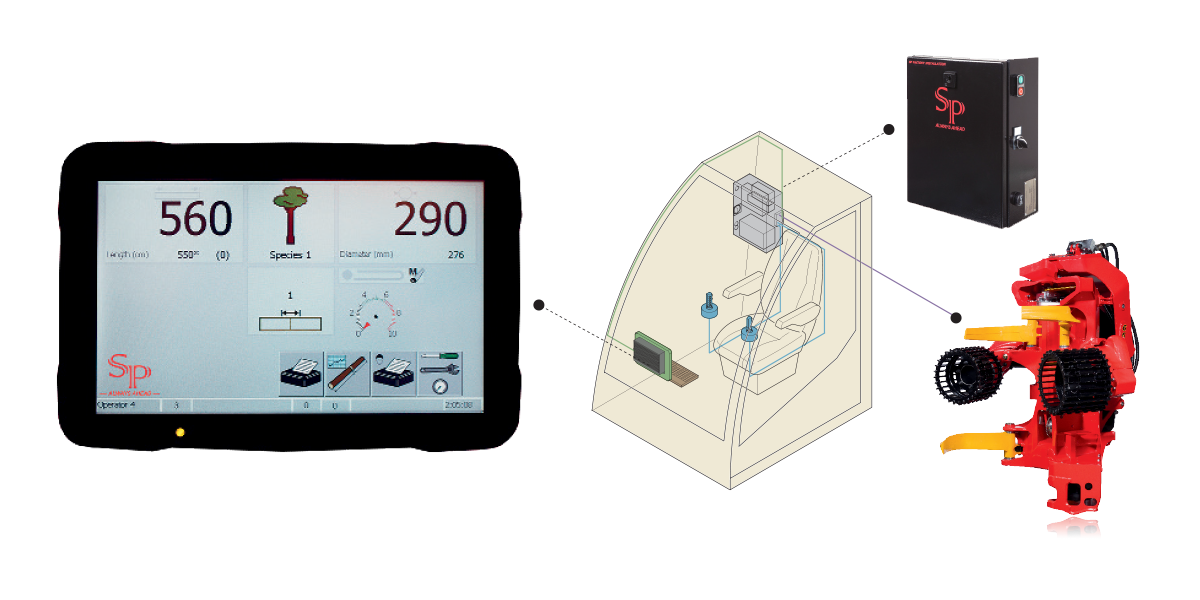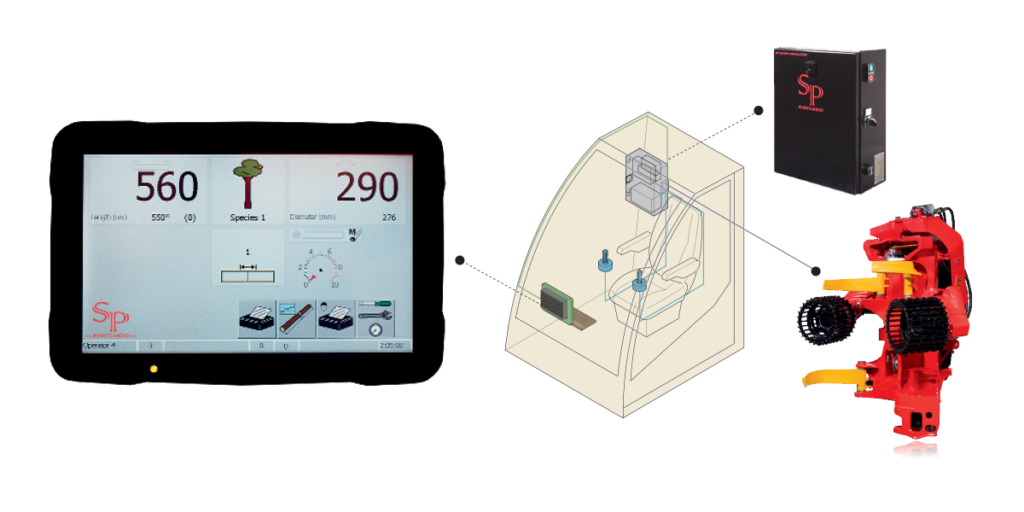 SPd5Bucking
SPd5Bucking is a complete measurement and control system for control of the felling process in a forest harvester in accordance with StanForD. This is our most advanced system and has support for value bucking. The system is also fully integrated with dasa5 control and communication system. All communication with the operator is via dxPc, which is a mobile PC with Windows 10 operating system, and stores all information, e.g. statistics or instructions. The dxPc computer has a touchscreen, which facilitates the work for the operator considerably.
SPd5BuckingPrio
SPd5BuckingPrio is our intermediate system. The system has support for priority bucking and is equipped with a PC. SPd5BuckingPrio is a slightly impler bucking system combined with the power of a PC for reporting, communication and other programs. Bucking is based on priority lengths with or without diameter classes. SPd5BuckingPrio is ideal when value bucking and reporting is not required according to StanForD at the same time as needing a PC for reporting, communication and other PC-programs. All communication to the operator occurs via dxPc.
SPd5BuckingPrio-C
SPd5BuckingPrio-C is a bucking system that focuses on simplicity without compromising on head control, performance or productivity. SPd5BuckingPrio-C has support for priority bucking with or without diameter classes and has been specially developed for felling where there is no need for wireless production reporting or the use of PC programs. SPd5Bucking Prio-C runs the Windows CE operating system.
SPd5 cab box
Regardless of which system you choose above, you can get it with our SPd5 cab box. The cab box allows SPd5 cab modules do be installed quickly, efficiently and at the highest quality. The cab box is factory-fitted at SP and delivered completely finished and tested together with the head, which ensures a correct connection and trouble-free commissioning. Thanks to the electronics modules being mounted in a protected environment inside the box, problems caused by external damage such as moisture, dust, dirt and impact are minimized.